Curriculum Intent
At Maplewell, we have created a curriculum that is broad, balanced, fully inclusive and aspiring for students to do the best they can.
We believe that the curriculum should enable all young people to become:
Active learners who are moving towards independence, autonomy and employment
Confident young people who effectively communicate their needs, wants, and opinions
Responsible citizens who make a positive contribution to society
Resilient individuals who are able to live safe and healthy lives
Successful learners who are able to reflect and refine their decision making in order to improve future outcomes
We deliver a range of subject areas and qualifications that best suit the needs of our students, complimented with a strong pastoral system that provides care and support throughout each students' time at Maplewell. We balance the importance of skills and knowledge in our curriculum to ensure that the individual needs of every student are met as detailed in their Education, Health and Care Plan.
The focus in Year 7 is to ensure a successful transition from primary, so that students are able to bring with them previous knowledge and skills and learn to apply them in a different setting. In the Autumn Term, time is taken to baseline all students; with teachers identifying all our Year 7 students' strengths and prior knowledge so that they are on the most suitable curriculum pathway.
The Curriculum is constantly revised and developed to not only meet the needs and strengths of our students, but to provide rich opportunities for them to develop a range of skills and enjoy memorable experiences.
Here at Maplewell we have pupils arriving with widely differing learning aptitudes. We want students to make good progress in all key stages and that all students maximise their progress towards training, employment or further education. In order to meet the needs of all learners we have developed an inclusive curriculum divided into a different distinctive pathways. We consider every pupil carefully and individually to ensure they are placed on the most appropriate pathway throughout their time at Maplewell. Over the course of their education, some pupils may move between pathways. All pathways centre on the National Curriculum and provide a broad and balanced education.
Throughout our curriculum, we have strength in the core subjects. A larger than normal share of curriculum time is allocated to English and Maths throughout Key Stage 3 and 4 to recognise the importance of success and progress in these key subjects. There is a real breadth of courses and range of levels across the curriculum, addressing the needs of all groups of students; a very strong traditional academic offer balanced with specific vocational and alternative courses.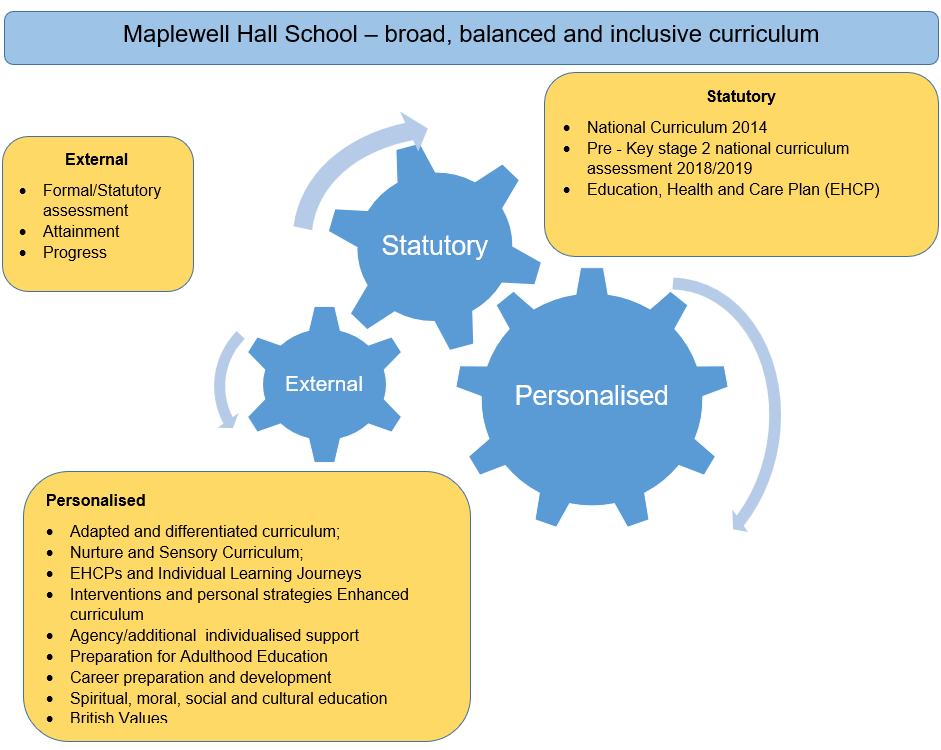 Curriculum Implementation
The School Week
We run a one-week timetable based on five periods a day of fifty minutes each, totalling twenty-four periods each week. Every day we have 20 minutes reading session. (On Friday, periods are slightly shorter to allow for an early finish and staff training on Tuesday.) Many of these are double lessons, for example in PE, Technology and in Option subjects in Years 10 and 11. Numeracy and weekly review of EHCP targets takes place during tutor times.
From Monday to Thursday school provides after school activity clubs and academic intervention (Maths, English and Science).
Curriculum Content
The Key Stage 3 and Key Stage 4 curriculum content is outlined in the new national curriculum which can be found on the DFE wesbite: https://www.gov.uk/government/publications/national-curriculum-in-england-framework-for-key-stages-1-to-4. Pupils in Key Stage 4 follow GCSE, Entry Level, BTEC and a range of Vocational courses offered by different awarding bodies (see tables below). In core subject students work in ability classes set, broadly banded and of mixed ability in foundation classes, dependent on the subject and stage at which it is being studied.
In Key Stage 5, students follow Vocational studies and those below GCSE grade 4 are taught English and Maths lessons (lesson a week).
Personal Development Learning
Students in all Key Stages have at least two lessons a week of Preparation for Adulthood (P4A). This covers statutory areas of Citizenship, Personal, Social and Health Education (PSHE) and Careers Studies. Within the subject students are taught Good Health; Employment; Independent Living; Friendship, Relationships and Community Inclusion. Key themes from these areas are also covered by all key stages on our Special Assemblies, Culture Day event, Science, Technology, Engineering, and Mathematics event (STEM) and Award Days when the ordinary timetable is suspended where they develop broader attributes such as leadership, organisation, initiative, resilience, communication and learnt about cultural capital.
Students gain cultural knowledge to become educated citizens through broad, diverse knowledge and a skill-based curriculum. In practice: rigorous attention to language phonic sessions, extra reading session, daily practising timetables, enriching vocabulary across the school.
A rich curriculum takes account of prior learning and experiences and helps pupils to develop the full range of knowledge, skills, understanding and attitudes We provide students'' opportunities for discussion, debate, exploration of ideas, independent responses to new material, individual research and development of own lines of enquiry
Career Education and Information Guidance (CEIG)
Careers education and information guidance is mapped out across all years 7-16. Careers advice ensures that the needs of all individual students are met. Our guidance ensures that students can:
achieve in line with expected outcome for their Key Stage by following an appropriate course
access the GCSE subjects when appropriate and progress to facilitating subjects at higher Level
access a number of vocational options where appropriate, which will develop the skills required for the world of work
A Curriculum for All
We offer a curriculum that allows all to succeed. In Year 7, for example, a number of students who are below reading age 7, follow different Curriculum Pathway and additional intervention during some of their lesson time, where they receive an enhanced focus on reading ( phonics and comprehension) until they are ready to access the standard curriculum in all areas. Equally, higher attaining students are constantly challenged by, for example, the opportunity to take higher tier of GCSE and triple science at GCSE.
Subject Details
Key Stage 3
Subject
Year 7
Year 8
Year 9
Number of 50 minute lessons per week
English
5
5
5
Maths
5
5
5
Science
3
3
3
DT& Food
2
2
2
P4A
2
2
2
PE
2
2
2
Art
1
1
1
Performing Arts
1
1
1
ICT
1
1
1
Humanities
1
1
1
RE
1
1
1
Total
24
24
24
Key Stage 4
GCSE Pathway
Subject
Year 10
Year 11
Number of 50 minute lessons per week
Core subject: English Language and English Literature GCSEs/Entry Level
5
5
Core subject: Maths GCSE/Entry Level
5
5
Core subject: Science GCSEs/
4
4
ICT
1
1
PE
1
1
RE
1
1
P4A
1
1
3 Option Blocks (Duke of Edinburgh, ICT, Animal Care,
6
6
Home Cooking, Engineering, Sport Studies)
Total
24
24
KS4 Vocational Pathway
Subject
Year 10
Year 11
Number of 50 minute lessons per week
Core subject: English Language and English Literature GCSEs
5
5
Core subject: Maths GCSE
5
5
Core subject: Science GCSEs/
4
4
Certificate in Occupational studies for the workplace
4
4
3 Option Blocks (Duke of Edinburgh, ICT, Animal Care,
6
6
Home cooking, Engineering, Sport Studies)
Total
24
24
KS4 Nurture Pathway
Subject
Year 10
Year 11
Number of 50 minute lessons per week
Core subject: English Entry Level
5
5
Core subject: Maths Entry Level
5
5
Core subject: Entry Level
4
4
Exploring Occupational Studies for workplace. NCFE
5
5
Preparation for Adulthood
5
5
24
24
Total
KS4
Subject
Year 10
Year 11
Number of 50 minute lessons per week
Core subject: English Language and English Literature GCSEs
5
5
Core subject: Maths GCSE
5
5
Core subject: Science GCSEs/
4
4
Certificate in Employability Skills Entry Level 2 – Content: Preparation for Adulthood, Communication skills, Independence, Thinking of Others
5
5
Certificate in Independence Skills , Entry Level 2 Content: Healthy Lifestyle, Computer Skills, Practical and Social Skills
5
5
Total
24
24
KS5
Subject
Year 12
Year 13
Year 14
Number of 50 minute lessons per week
English
4
4
4
Maths
4
4
4
Travel Training
3
3
3
D of E
5
5
5
3 Options (Sport, Food, Animal Care)
3
3
3
P4A
2
2
2
Extended Certificate in Employability Skills 5546 City & Guilds
3
3
3
Diploma in Occupational Studies for the Workplace
NCFE Entry 3
– Content: Preparation for adulthood, Careers, Employability Skills, ICT Skills, Community, Independence
Total
24
24
24
GCSE Examination Boards
| | | |
| --- | --- | --- |
| Core, Foundation or Option element | Subject (all GCSEs unless stated) | Examination Board |
| Core | English Language and English Literature | AQA GCSE |
| Core | English- step to English | Entry Level |
| Core | Maths | GCSE AQA/WJEC/Entry Level |
| Core | GCSE Single Biology | GCSE AQA |
| Core | GCSE Trilogy Science | GCSE AQA |
| Core | Science Today | WJEC Entry Level |
| Core | Science | AQA Entry Level |
| Options | Physical Education | OCR Entry Level Certificate in Physical Education |
| Options | Physical Education | Cambridge Nationals Certificate in Sports Studies |
Curriculum Impact
The curriculum we have is progressive, dynamic and flexible and suits the needs of our learners. Students have the opportunity within the curriculum to progress, succeed and gain nationally recognised qualifications; going into apprenticeships, (evidence historical and current data).
The needs of learners are recognised significantly within our curriculum through the developing of different pathways, regular academic intervention, COMPASS sessions (to support students wellbeing), and alternative packages in and out of school. Achievements within the curriculum are celebrated through our Pastoral Leaders, Heads of Department and planned assemblies.
In the latest Parent Surveys (conducted in 2019), 99% of parents believed that their children were making good progress at the school, (see Autism survey) Parent's quote: 'Maplewell school is excellent at helping and supporting my child as well as keeping us well informed. Best decision we ever made sending him here. More importantly he loves it there as is progressing well as a person and academically.'
Quality assurance procedures, including observations, book scrutinise and learning walks, provide evidence of curriculum impact. Through the data analysis we learn that in 2019, 100% of students leaving Maplewell moved directly onto sustained education or employment/training destination compared to 88% nationally.
Our curriculum planning allows students to succeed in reaching national recognised outcomes for their age group. In 2019, 100% of year 11 achieved at least 1 GCSE (1-9) or BTEC qualification either in maths/English/science/ Sport studies/ DT &Art
Monitoring and Evaluation
In principle, courses on offer should:
allow students to succeed in reaching national recognised outcomes for their age group
promote work readiness
entitle students of appropriate ability to access aspirational progression pathways
Formative and summative assessment
At MHS we use Mastery assessment. Main benefits of using mastery assessment is that it focuses on allowing all students to progress at their own pace and to take their time to focus on problem-solving and various outcomes of a scenario, thus avoiding hurried glossing-over of skills and knowledge. Hurrying learning along can affect negatively upon individual skill sets and knowledge recall in later life, making Mastery all the more appealing.
Mastery ensures that everyone receives the same level and scope of teaching without the risk of pupils being left behind – it exists to enable all children on one particular syllabus to receive equal knowledge.
Mastery assessment, recording, reporting and feedback is a continuous and on-going process and is part of the cycle of learning.
Summative assessment, used mainly to measure performance and identify a standard of student attainment. ( End of unit test, external exams)
Ongoing formative assessment (through range of method quizzes, range of questing, games) to check students daily understanding of the topic
Curriculum dictated the formative and summative assessment
Through the assessment process, we gather information, which enables teachers to:
evaluate and record each student's attainment and progress
identify individual students' strengths and weaknesses and plan intervention when need it
evaluate teaching effectiveness
plan future learning and teaching experiences
The curriculum is constantly monitored at all key stages by Heads of Departments and their Senior Links, with reviews of progress at KS3 and results at KS4 & KS5 taking place annually with the Headteacher.