The month of May sees the election of our new set of House captains and vice captains. This year, these students will be responsible for reporting on student successes and achievement within their houses. So, watch this space for reviews and updates from enthusiastic and willing set of House of captains.
In the meantime, here are just of the highlights from 2016-17
---
Specialist Basketball Coaching
Some of our year 11 boys have been lucky enough to receive specialist basketball coaching from Basketball England's Disability Officer Jon Stonebridge. The ex-Leicester Riders player has been helping prepare our year 11 team for the Spring Championships. Basketball also plays an important role in the delivery of our Sports Studies course and we thank Jon for his help in improving the progress of our year 11 team.
Wheelchair Basketball
Thursday morning PE lessons for year 10 students have been more exciting than usual as Will Andrew from the Melton Stallions wheelchair basketball programme has been in delivering some fantastic sessions. Will's expertise has not only been well received by students but also the department staff who are hoping to deliver the sport next year as a permanent part of the PE curriculum for all our cohorts at Maplewell.
Cross Country Race 2
The second and final race of the Leicestershire Disability Athletics schedule was held at Maplewell on Thursday 18th March 2016. Following the success of race 1, Maplewell fielded a strong line-up of runners who did not disappoint. The sum was out but after a very wet couple of weeks the course was wet and boggy in places. However, the Maplewell spirited flowed throughout as all of our runners completed the course and the results are below. A special mention must go to Joshua Archer and Luke Radymski who won their respected races by a considerable distance. However, the whole team were fantastic and deserve a lot of praise as they represented our school impeccably.
Wheelchair Rugby
The GB Wheelchair rugby squad are currently in town playing in an international Tri-Series tournament at the Queen Elizabeth stadium near De Monfort University in Leicester. So, if you're in town, why not visit Maplewell Hall School which the coaching team did do providing our residential students with some enjoyable and exciting sessions. It is important to note that tickets for the Tri Series are free of charge so please take the opportunity to take in some worldclass action. Pick the right night and you may even see some Maplewell students performing.
School Games Spring Championships
The Leicestershire School Games Spring Championships is a sporting event for a number of level 3 finals to take place. This prestigious event takes place at Loughborough University and Maplewell were represented in both the KS3 Boccia competition and disability basketball finals. I am proud to announce that Maplewell gained two of North Charnwoods Gold medals on the day. Our year 11 basketball team dominated the disability basketball event. The team led by Liam Barlow, went he whole day, 6 games, unbeaten and ran out worthy winners. Drama at its highest in the SLD Boccia competition where Captain Courageous Kirsty Neville, guided the Maplewell team to Gold glory. A very
House System
All students and staff at Maplewell Hall School belong to one of four Houses, Swithland, Charnwood, Bradgate, and Beacon. We believe that this helps the social development of our students and capsulate the value of team work and team spirit. Our four Heads of House work tirelessly to ensure each and every student is valued and feels part of their House, having an identity, and proud to be part of supportive community. Regular house assemblies celebrate student successes and highlight up and coming events and activities.
Maplewell Heads of House
| | | | |
| --- | --- | --- | --- |
| Swithland | Beacon | Charnwood | Bradgate |
| Miss Smith | Mrs Bullock | Mr Handley | Mrs Huggins |
To promote students sense of identity and feeling part of a community within Maplewell, school polo shirts and PE kit are worn in the colours of their house. Together, with allowing their names printed on the back of their PE hoodies, help students form an identity within their house and feel proud to be part of a team.
Throughout the year, students and staff take part in regular competitions and challenges that carry house points that contribute to the main House leader board, 'The Maplewell Cup'. These can be in the form of organised competitions in a variety of subjects, ten minute tutor time challenges, and specific enrichment days off timetable dedicated to a specific initiative. So far, after 72 round of competition the leader board looks like this:
The House System embraces student achievement and green tokens are rewarded to students being caught doing the right thing. This may be for a fantastic effort in lessons, high standards of work, or simply holding a door open for someone, hence the reason the tokens are labelled 'caught doing the right thing'. Heads of House work hard to provide students with a variety of means to spend their green tokens through half termly reward opportunities. These may be stationary items, extra recreation time, enrichment activities, or trips off-site. A menu is produced for each half term so students to decide what they would like to spend their tokens on.
Key Stage 3 PE
As a PE department, we offer a wide and varied range of activities during curriculum and lunch times. At Key stage 3, we offer mainstream type activities for our higher ability students but a more developmental and alternative curriculum for our lower ability learners. We introduce the concepts and importance of physical activity and exercise as well introduce students to competitive sport in preparation for House and inter-school competitions. Below are a range of activities we are able to offer within our key stage 3 PE programme:
Athletics                                  Fitness Room Activities                   Rounders
Badminton                              Football                                            Rugby Union
Basketball                                Goal ball                                          Sitting Volleyball
Boccia                                       Golf                                                  Short Tennis
Cricket                                      Gymnastics                                      Table Tennis
Cross Country                          Health Exercise                               Tag Rugby
Dance                                        New Age Curling                             Tennis
Danish Long Ball                      OAA                                                   Trampolining
Dodgeball                                 Orienteering                                      Yoga
We're able to provide these activities due to our strong links with the Local School Sports Partnership (SSP) for special schools in Leicester and Leicestershire, local sports clubs, and a wide range of facilities. All department staff are PE specialists. In addition, professional coaches are employed to complement the alternative activities we offer.
Our close relationship with premier league champions Leicester City, has resulted in twenty weeks of commitment from the club in providing high quality physical activity provision. It is currently our year 8 students that access these sessions and will have the opportunity to play at the King Power stadium later in the summer term.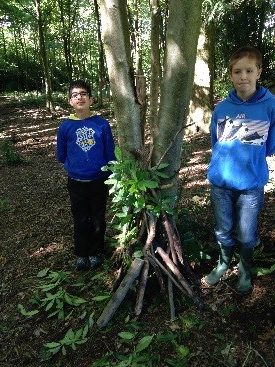 In addition, year 9 students are offered the opportunity to be introduced to the Duke of Edinburgh bronze award. Using our extensive outdoor facilities, students get a taster of what the Duke of Edinburgh award consists of and whether they would like to study it in key stage 4. Alternatively, students can enroll in the Bronze Arts award delivered by Dance group 'Moving Together'. This is a popular option for our year 9 students as it enables students to gain an additional qualification and perform at the Curve Theatre, Leicester.
Pupils are encouraged to wear House colou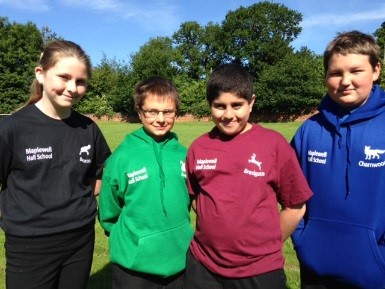 red PE Kit that can be ordered online at:  http://www.lisssport.co.uk/maplewellschool.  The kit is easy to order and we believe is fantastic value for money. This gives our students a sense of identity and belonging.
For any further information regarding the purchasing of PE kit, please contact the reception at school. Maplewell has a number of washing machines and tumble dryers that are frequently used in order to keep spare kit and school team kits clean and fresh, ensuring all students get the opportunity to take part in physical activity in the appropriate clothing.
Key Stage 4/5 PE
As well as a core PE offer, The PE department offers Key Stage 4 and 5 students the opportunity to study OCR Cambridge Nationals in Sports Studies. Students are able to complete the Award (units R051, R052) or the Certificate (units R051-R054) depending which is more appropriate for them.
R051 – Contemporary Issues in Sport (Exam)
R052 – Developing Sports Skills
R053 – Sports Leadership
R054 – Sport & the Media
If students struggle to access this qualification, an entry level version of the subject is available for students to navigate. Coursework is undertaken covering the dietary requirements of an athlete, as well as analyzing a performance in their chosen sport.

Once the Cambridge Nationals course has been successfully navigated in key stage 4, students that stay on at Maplewell can turn their attention to developing themselves as sports leaders. Students will be able to continue their journey within sports studies qualification and move on to the Technical version of the qualification, or choose to study UK Sports Leaders in the PE department which can cater for level 1, 2, and 3 ability learners. This will depend upon the cohort of students coming through from key stage 4 and which avenue of study best suits the students involved.
In addition to the core offer and sports studies, students can opt to enroll on the Duke of Edinburgh course at either bronze or silver level.
"The Duke of Edinburgh's Award has helped countless young people on their sometimes difficult path to adulthood."
HRH, The Duke of Edinburgh KG KT.
This award inspires and transforms the lives of millions of young people from all walks of life and students here at Maplewell respond to this award with enthusiasm. From volunteering to physical activities, life skills to expeditions, achieving a D of E Award is a passport to a brighter future, valued by employers and universities.
Leicester City again feature in providing our students with the opportunity to develop their leadership skills. They deliver a Junior Football Leaders Award and Multi-Skills Leaders Award within our Preparation 4 Adulthood programme. Our key stage 5 sports studies students will benefit from the Club's expertise this year but with plans to roll it out across both key stage 4 and 5 next academic year.
Enrichment
It is inevitable that Outdoor education plays an active role in the life of a Maplewell student considering the woodland areas we have. Students in key stage 3 can expect to have at least 3 days a year off timetable taking part in a range of outdoor activities. These activities also feature in the House system reward scheme and are popular choices for students wanting to spend their green tokens. As a result, it's not unusual to see students using the facilities two or three times a week during their lunch times. Due to the importance of key stage 4 students being in their academic lessons, we try to include the outdoor education programme in the core PE offer.
To maximise the experiences of our students in the PE department, we regularly source specialist coaches to help deliver our broad and balanced curriculum. We have been massively impressed with the quality of sessions our external partners deliver at Maplewell and we would like to thank the following individuals and organisations for their help this academic year:
Wheelchair Rugby with the GB Wheelchair Rugby squad.
Table Cricket with Leicestershire Cricket Board and Coach Tom Leonard.
Fencing within our own enrichment programme.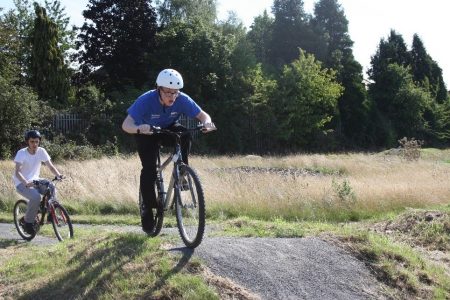 BMX track racing with specialist coach Simon Roadley.
In addition, Maplewell take part in a range of sporting fixtures against other special needs schools from around the Leicestershire County. We are regularly successful within these competitions and it is testament to the hard work and effort the range of students we select to represent our school. These competitions include:
Cross Country, Boccia, Athletics, Cricket, Football, Sports hall Athletics, and Tag Rugby.