ICT Long Term Plan
In ICT and Media we implement this through the delivery of a high quality of education which places developing the computing concepts at the forefront of planning. Each scheme of learning is prefaced by its own intent, implementation and impact rationale, underpinned by a deep understanding of the computational concepts. In the schemes of learning assessment is a meaningful vehicle for learning, of learning and as learning to ensure we make a profound positive difference to all students. Various quality assurance activities are undertaken to rigorously ensure that the implementation of the computing curriculum has maximum impact.
The Computing curriculum at Maplewell will make a profound, positive impact to the outcomes of all students. Students will be equipped with traits that reflect resilient learners who are both digitally literate and E-safe. We will know that this is true as we are delivering a high standard of education, quality assured through qualitative and quantitative measures such as:
Attainment and Achievement outcomes
Observing lessons and scrutinising planning
Standards of learning on Google Classroom
Student voice
Destination data
Attendance data
Behaviour data
ICT is taught on timetable to all pupils at Maplewell, and includes a course of ICT skills that will allow them to continue to develop as confident and enthusiastic users of various software applications to aid and enhance their school work and studies.
Online Safety
Each term during ICT lessons, we cover at least one element of Online Safety.
Parents are encouraged to check out National Online Safety (NOS).  Here you will find social media guides for parents for popular apps and games and information leaflets about the latest topics in Online Safety.  NOS update this hub regularly with the most current information.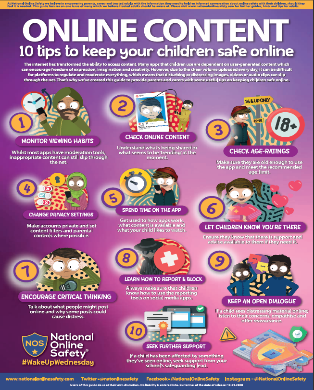 Key Stage 3
The Key Stage 3 curriculum is specifically designed to ensure learners develop a basic level of digital literacy while understanding how to stay safe online. Our intention is to develop learner's knowledge, skills and understanding through key computational concepts and experience. The KS3 curriculum also provides a focus on developing resilient learners who are able to recover from mistakes and effectively solve problems.
The topics at KS3 give a basis of knowledge, skills and understanding to allow students to progress onto either core ICT or Interactive Media at KS4. The curriculum will also provide some exposure to Computer Science so that students can make an informed decision on their GCSE choices.
Key Stage 4 Core – ICT
The rationale of the KS4 core ICT curriculum is for students to continue to develop digital literacy skills while covering essential preparation for adulthood (P4A). Students engage in a variety of discussions regarding online healthy choices
Social media
Self-esteem
Screen time
Online identity & relationships
Key Stage 4 Option – Imedia
As an option, we offer a Level 1 or 2 Cambridge Nationals Imedia, which continues to build upon media skills from KS3. Learners have the opportunity to develop their capability, creativity and knowledge in digital media and information technology.
Video Editing
Post Production
Photo Editing
Game Design