Where a class, group or small number of pupils need to self-isolate, or there is a local lockdown requiring most of the pupils to remain at home, teachers at Maplewell Hall School are in a position to offer immediate remote education.
Google Classroom is our main platform for the delivery of remote lessons.   Pre-recorded and some aspects of 'live lessons' will be delivered via  video-communication service called Google Meet.
The Student timetable for 2020-2021 is being followed for home learning; this will allow minimal disruption to planning and supporting students and parents/carers to provide structure. This also supports the reintegration of formal schooling for students on their return.
Teachers have already been using Google Classroom to set homework and record their lesson resources.  This supports both home revision and blended learning.
If the school remains open, teachers will have greater capacity to provide printed resources, such as textbooks and workbooks to pupils who do not have suitable online access.
For more information regarding remote learning please read 'Remote Learning Contingency Plan September 2021'
How To Access Schoolwork At Home using Google Classroom
To access schoolwork from home, here is a video put together demonstrating how students can hand in their work, find assignments set by their teachers and access their school documents and files.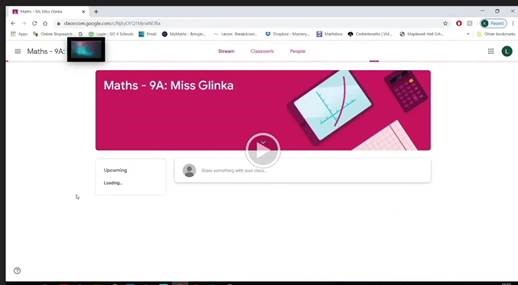 A guide for Students/Parents to logging in to Google Classroom
To provide students with ongoing education, teachers have set up an e-learning environment to enable students to continue to work from home.  This will be available via learning platforms such as Google classrooms or the school website.
Please read  the letter and guide below for Students/Parents/Carers guide to logging in to Google Classroom.  This area will be a vital connection between teachers and students and will be updated at least once a week, to provide relevant work and progress checks.
If you do not have access to learning equipment such as tablets/computers, please let us know by either:
phoning the school (01509-890237), or
through a message through WEDUC, or
an email to the school email admin@maplewell.leics.sch.uk.
Where possible, we will try to help students in this position.
Please see HERE for a Guide to Logging in to Google Classroom.
Please click HERE to go straight to the Google Classroom login page.