How To Access Schoolwork At Home using Google Classroom
To access schoolwork from home, here is a video put together demonstrating how students can hand in their work, find assignments set by their teachers and access their school documents and files.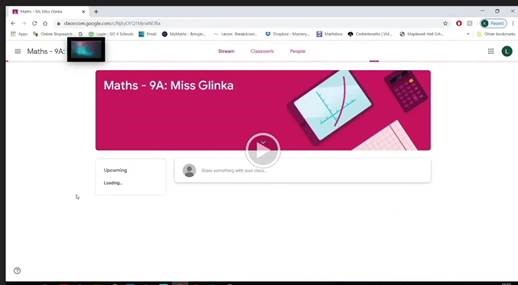 To provide students with ongoing education, teachers have set up an e-learning environment to enable students to continue to work from home.  This will be available via learning platforms such as Google classrooms or the school website.
Please read  the letter and guide below for Students/Parents/Carers guide to logging in to Google Classroom.  This area will be a vital connection between teachers and students and will be updated at least once a week, to provide relevant work and progress checks.
If you do not have access to learning equipment such as tablets/computers, please let us know by either:
phoning the school (01509-890237), or
through a message through WEDUC, or
an email to the school email admin@maplewell.leics.sch.uk.
Where possible, we will try to help students in this position.
Please see HERE the letter from the Headteacher.
Please see HERE for a Guide to Logging in to Google Classroom.
Please click HERE to go straight to the Google Classroom login page.